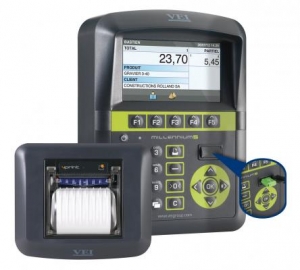 OPTIMIZE YOUR PRODUCTIVITY &
PROFITABILITY
With accurate, at-a-glance onboard weighing and payload monitoring, fleet operators have more control of loading operations to drive down haul costs and improve productivity.
Operator-friendly as ever!
Our new two-in-one interface combines the original millennium keypad setup with a new numeric key format – users can now choose between using the familiar control or quick keystrokes.
THE WEIGHING CONCEPT
VEI onboard scales are in use on all types of machines in a wide range of industries. In every application, our scales deliver the most accurate information possible to achieve better optimization of
your loadouts, production processes, sales analysis, inventory updates, truck-load optimization and
loader productivity. Simple and straightforward to install, scales will fit perfectly into your equipment with easy setups by factory-trained VEI technicians or your own personnel. Local support from VEI is always nearby to help you out. Easily transfer your VEI
scales from one machine to another or use multiple buckets or forks – they are durable and DESIGNED TO LAST
1. Millennium5 Onboard Instrumentation
2. Contact-free Weighing Zone Sensor
3. Lifting Pressure Load Sensors
For more information


Call the Experts:

1 800 474-9838
For more information


Call the Experts:

1 800 474-9838