View our Calibration Card
When Electrical Safety is Critical turn to Premier Scales & Systems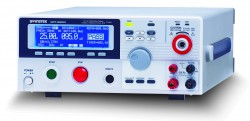 We are proud to offer ISO/IEC 17025 accredited hipot tester calibration services as part of our extensive electrical calibration scope.  Hipot testers, or high potential testers, are a class of electrical safety instruments used to test and confirm the electrical insulation of cables, wires, motors, and other electrical equipment. Our calibration lab has the equipment and expertise necessary to provide a wide range of AC & DC hipot tester calibration services up to 6000V DC and 5000V AC.
Why Choose Premier for Hipot Tester Calibration?
---
Being around for a half-century is no accident. Premier was built on the philosophy that our customers deserve the highest level of integrity, respect and customer services. Furthermore, we believe our success comes through the success of our partners. For this reason, we do things little different than other calibration service and metrology companies. Our solutions are designed with your company's best interest and goal in mind, not our bottom line. Because of this mentality, we work more like an extension of your team rather than an outside contractor. In addition to accredited hipot tester calibration, Premier is home to the area's largest accredited calibration scopes. In short, our full-service approach means one company, one point of contact, and one invoice for any metrology need. You can rely on Premier for accurate results that do more than keep you in compliance but also increase the life and efficiency of your measuring equipment.
---
Premier Scales & Systems also provides new equipment sales and 24/7 maintenance, repair, and accredited calibration services within the Indiana, Illinois, and Kentucky regions.
View our Calibration Card
Our Promise
---
It is our promise to treat each customer with integrity and respect. To this end, our goal is to design solutions with your company's best interest in mind, not our bottom line.
24/7 Service:
1 800 474-9838
24/7 Service:
1 800 474-9838