Increase Your Weighing Competency
---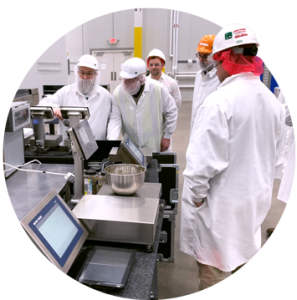 Premier Scales & Systems is partnering with METTLER TOLEDO to offer an unmatched portfolio of onsite continuing education seminars and workshops. We've learned a lot over the last 50 plus years, and we want to share that knowledge with your team. Each of our hour-long sessions will empower participants to make effective decisions on weighing practices, applications, and integration techniques. Our sessions focus on application-based information that will help your team effectively incorporate weighing into common industrial processes and ensure that all weighing processes will provide the highest in accuracy, error reduction, and productivity.
These 1-hour sessions focus on several important elements in weighing applications and processes while providing continuing education credits to attendees. Each session includes a free lunch, a 45-Minute application-based presentation or hands-on workshop, a 10-15 minute Q&A session, and a Certificate of completion for CE Requirements.*
Why Choose A Workshop from Premier Scales & Systems and METTLER TOLEDO?
Our seminars and workshops are complimentary for customers & local business partners.

Since our workshops and seminars are completely mobile, we can set up at your facility.

Our comprehensive 1-hour seminars are lead by weighing experts.

Each seminar is focused on application-based learning that builds a strong foundation of weighing competence.

Our content fulfills continuing education requirements.

We give you access to experts for guidance on difficult projects.

We have a defined set of courses that covers a broad range of weighing and process topics.
Automated Weighing Integration
Weighing plays a significant role in countless manufacturing processes. Learn to easily integrate  automated weighing into applications to accurately capture weight data and transfer it quickly.
Intelligent Load Cell Course
Weighing technology has evolved. Learn about intelligent load cells such as METTLER TOLEDO POWERCELL® that are equipped with internal weight adjustments and condition monitoring. See how these load cells provide enhanced accuracy and speed.
12 Key Considerations to Ensure Perfect Tank, Silo, and Vessel Design
Are you confident that the system you are designing will help your customer produce the best quality possible? Learn how to design a tank scale that meets your customer's tolerance requirements while also meeting their application, environment, and budgetary needs.
How to Select a Truck Scale
Learn the considerations that you must address when selecting a truck scale. Truck scales are not "one-size fits all", and making the wrong decision can be painful for you or your customers. This seminar covers the latest truck-scale technology, common priceperformance trade-offs, and best practices for servicing a scale to enhance its usable life.
Optimize Commissioning with Truck Scale Installation Best Practices
Learn site-specific application considerations in four key areas: site planning, installation, maintenance, and performance. The details you learn will help you manage a truck scale project from start to finish.
Good Weighing Practice™: The Right Device for Your Application
Are you sure that the weighing device you are considering is suitable for the specific application? Learn how Good Weighing PracticeTM (GWP®) can be applied to ensure the device will meet the needs of both you and your customer.
Weigh Safely and Accurately in Hazardous Areas
Hazardous-area weighing can be tricky. Learn how to design your Ex-compliant weighing application to ensure operator and environmental safety without sacrificing speed and accuracy.

After-Sales Service to Ensure Ongoing Compliance and Performance
Learn about service-planning considerations that can help you determine and recommend the right blend of maintenance activities to keep devices working like new while maximizing uptime.
Reduce time and error in your production processes by having full tracking & traceability for each transaction in real time. This workshop will allow your team to take complete process control through order tracking/tracing, data collection, and quality parameters.
The formulation workshop shows how small changes can lead to increased productivity, tighter process tolerances, and consistent high-quality products. This workshop covers traceability, user management, and simplified manual formulation.
Over the last 50 years, our team has worked with thousands of facilitates to overcome countless challenges. We want to share this knowledge with you. If you are facing a particular weighing problem not covered in our our other workshops, we would love to help. Simply contact us or request a workshop with the challenges your team is facing, and we will create a custom workshop.
* Continuing Education Credit availability varies depending on workshop and state requirements. Please contact us for more details.
24/7 Service:
1 800 474-9838
24/7 Service:
1 800 474-9838