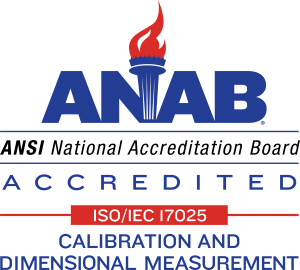 ISO/IEC 17025 Standards
Premier Scales & Systems meets or exceeds ISO/IEC 17025:2017 standards for testing and calibration laboratories.
The ANSI National Accreditation Board (ANAB) is the third-party, national quality registrar that issues the scope of work Premier Scales & Systems is qualified to perform.
Six accrediting bodies in the United States are signatories for calibration in the Asian Pacific Laboratory Accreditation Cooperation (APLAC) and the International Laboratory Accreditation Cooperation (ILAC):
ANSI National Accreditation Board (ANAB)
American Association for Laboratory Accreditation (A2LA)
Laboratory Accreditation Bureau (L-A-B)
National Voluntary Laboratory Accreditation Program (NVLAP)
International Accreditation Service, Inc. (IAS)
Perry Johnson Laboratory Accreditation, Inc. (PJLA)
These accreditation bodies mutually recognize each other and the two cooperations, APLAC and ILAC. All accreditations passed down to calibration labs by these accreditation bodies are accepted by all as equivalent.
Additional Resources
ISO/IEC 17025 Website
To see the requirements for the competence of testing and calibration laboratories
ILAC Website
For more information about the arrangement between accreditation bodies
ANSI National Accreditation Board Website
For more information about ANAB Accreditation
ILAC Signatories
For a list of ILAC signatories worldwide