In many facilities, manual weighing processes are irreplaceable. Like all manual processes, the human element adds an extra layer of flexibility that allows low-cost fast adaptation to a changing market. However, manual weighing is not without its faults. Some of the largest gaps in efficiency are in the manual weighing process. The ICS series of scales from Mettler Toledo aims to minimize variables that lower efficiency while maintaining the cost savings and flexibility of the manual processes.
1. Speed up Operations & Productivity
Enable Takeaway Mode :
In certain applications, this feature can save tons of time. This mode allows quick portioning without any manual zeroing, tare weights, or keystrokes.
Wifi Capabilities :
Eliminate the need for extra wires and printers at an operator's work station with wireless printing and data storage options.
ColorWeight Technology :
With Colorweight operators performing a manual weighing task can quickly identify if weights are above, below, or within target tolerances at a glance.
Saves time on:
Portioning
Checkweighing
Classification
Filling and dosing
Piece counting
2. Increase Process Efficiency
Collect, share, and visualize real-time weighing data to a computer or tablet. Collect+ is the perfect tool to gain valuable insights into your facility's production processes.
Connectivity to ERP and Cloud Systems :
Streamline devices communications through the Industrial Internet of Things. ICS scales can connect directly with OPC UA servers and MQTT servers, the two most common industrial communication technologies for Enterprise Resource Planning, Industrial Internet of Things, and Manufacturing Execution Systems.
3. Easy, Safe,
& Efficient
Cleaning
Hygienic approved Platforms:
The ICS manual weighing series is compatible with Mettler's line of Hygienically approved platforms designed for fast washdown procedures, that include:
Easy cleaning access to all parts
Open construction, no traps for bacteria contamination
Fully electropolished hermetically sealed load cells
Stainless steel construction (<0.8um surface roughness)
Closed welded joints
Easy Clean Stainless- steel Hygienic Terminals :
The ICS series terminal is now available with stainless steel keypad. The completely flat metal front has no raised buttons making it quick and easy to clean and nearly indestructible.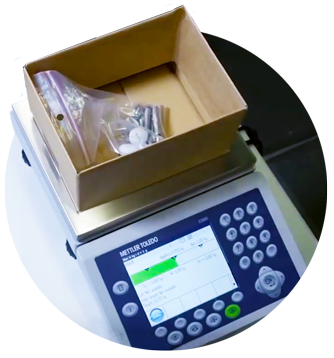 Want to see the ICS Series in Action?
Request a demo from one of the experienced staff. During the demo, our specialists will walk your team through the ICS features that could help your facility increase production efficiency in automatic and manual weighing processes.