How Much Does a Breakdown Cost?
It's no mystery, breakdowns are an expensive problem that plagues production facilities. According to one study, each minute of downtime in the auto industry costs $22,000. How much does a minute of downtime cost your business?
Here are some costs to consider:
Each year manufacturers experience an average of 800 hours of equipment downtime. Even if downtime cost an average of $1 per minute, that's still $48,000 a year. Some manufacturers write this off as an accepted cost of doing business, but what if changing your maintenance strategy could reduce downtime?
What maintenance strategy is your company using?
In general, there are two schools of thought on maintenance, the old school strategy reactive maintenance, and the newer school of thought preventative maintenance. What do each of these strategies look like, and how do they play out?
Reactive Maintenance
The reactive strategy is centered on the philosophy "if it ain't broke, don't fix it." Those who follow this strategy believe it's not worth spending valuable resources to work on functioning equipment. For years production tasks could mostly be performed manually, and the machines used to help production were relatively easy to fix. These factors kept downtime short and reduced the overall impact a breakdown could have on production.  However, as manufacturing technologies have advanced, machines are becoming more complex and performing more of the production process. This new complexity has caused companies unwilling to adapt their procedures to fall behind. On average companies employing reactive maintenance experience more unplanned downtime, less efficient production, and higher maintenance cost compared to companies who practice preventative maintenance.
Pros of the Reactive Strategy:
Cons of the Reactive Strategy: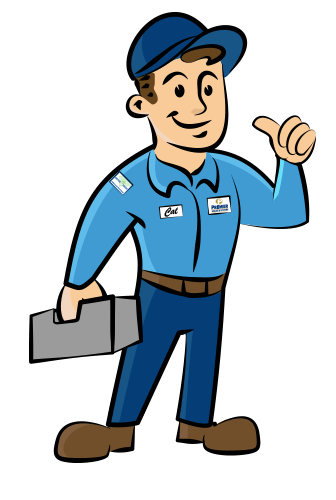 Preventative Maintenance
Preventative maintenance is all about taking proactive measures to increase equipment life and prevent unplanned downtime. Much like changing the oil in a car or going to the gym, the focus is on long-term results rather than short-term costs. Companies that have a preventative mindset utilize scheduled downtime to identify and fix potential problems and to keep equipment running efficiently. This strategy allows companies to avoid the high cost associated with breakdowns such as overtime pay, expedited shipping cost, and lost production time. One study shows that planned maintenance is up to 5 times cheaper than unplanned maintenance. Scheduled downtime is also a great time to keep your equipment running at peak performance by performing incremental upgrades as outlined in our
5 Tips for Lean Production
blog post.
Pros of the Preventative Strategy:
Cons of the Preventative Strategy:
It is time to switch to a Preventative Maintenance strategy.
Due to its benefits, many companies are switching to a preventative strategy. Unfortunately, because of extra planning and a perceived additional cost, many companies struggle to make the first steps towards preventative maintenance. That's where Premier's experience can help.
How can Premier help?
We take the guesswork out of maintenance scheduling and budgeting by offering Preventative Maintenance Agreements (PMAs) for all of your metrology equipment. We will work directly with your team to create a custom PMA designed to identify minor problems before they become major issues and to preserve your equipment's performance. Whether it's a weekly 10-point scale check or biannual equipment calibration, we meticulously create each PMA to fit your company's specific goals and budget.
Why Partner with Premier?
Being around for a half-century is no accident. Premier was built on the philosophy that our success comes through the success of our partners. This philosophy has led us to do things a little differently than other metrology companies. We design our solutions with your company's best interests and goals in mind, not our bottom line. This mentality means we work more like an extension of your team rather than an outside contractor.