Standard Overload
Accredited calibration companies, ourselves included, like to tell anyone who will listen about their ISO/IEC 17025 Accreditation. Like all niche fields, we sometimes forget the difference between industry jargon and general knowledge. The fact is, we like to shout ISO/IEC 17025 Accreditation from the rooftops because it's both a high achievement and pretty important for anyone seeking a quality calibration.
You may have heard of the more common accreditations like ISO 9001 and ISO 27001, but outside of our marketing, you may not know about ISO/IEC 17025. The International Organization for Standardization (ISO) has created a standard for just about everything. To date, there are over 20,000 published ISO standards, so we wouldn't blame you for not knowing every single one. ISO/IEC 17025 is the fundamental standard for calibration labs.
(Check out ISO 3103 for one of our favorite off-the-wall standards).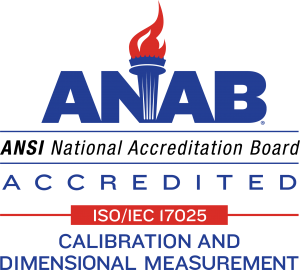 What is ISO/IEC 17025 Accreditation
Governed by ISO and the International Electrotechnical Commission (IEC), ISO/IEC 17025 is the international quality and procedural standard for calibration labs. This standard has five key components: guidelines for management, normative reference documentation, scope, technical competency requirements, and terms/definitions. These components are the foundation for accurate,
repeatable, quality calibrations. For a lab to gain its accreditation, an authorized accrediting body must review and approve a lab's processes to ensure they are compliant with all of the standards outlined in ISO/IEC 17025. The accreditation process is a tremendous undertaking that requires an extensive quality system and detailed procedures.
To maintain their standing, accredited labs are subject to regular audits from their accrediting body. During these audits, a representative from the accrediting body will "witness" calibrations, comb through quality documents, and inspect the lab and its equipment to ensure continued compliance with ISO/IEC 17025 standards.  These audits perform a dual purpose.  Not only do audits verify quality, they allow accrediting bodies to share best practices and make processes even more accurate and more efficient.
Not All Calibration are Created Equal
As discussed in previous articles, not all calibrations are equal. The rigorous requirements for accreditation ensure the highest level of quality and consistency in the calibration results. For highly regulated industries like pharmaceutical production and criminal justice labs, accredited calibrations are often a requirement. Although accredited calibrations are the highest-quality calibration available, they are not necessary for every process. Some processes may only need basic verifications to perform adequately. If you want to find out the ideal calibration for your equipment, refer to our handy article, or our calibration flowchart.
Is that Calibration Actually Accredited?
If your quality process requires accreditation, it is essential that your calibrations meet those specifications. Although it is rarely malicious, there are a few situations that could lead customers to believe an unaccredited calibration is actually accredited. 
The first culprit has to do with wording. Some labs may say ISO/IEC 17025 compliant, but that is not the same as ISO/IEC 17025 accredited. Some companies will issue compliant calibrations to avoid accreditation costs or while they're in the process of gaining accreditation. It is also possible the calibration is slightly outside of the company's accredited scope, but they are confident the procedures are still compliant. With that in mind, it is crucial to remember that anyone can say their process is compliant without substantiating their claims. Without third-party verification, quality requirements could be missing from their procedures. If you see "compliant" on your certificate, discuss the reasoning with your calibration company and decide if their methodology is appropriate for your process. 
Another common confusion happens when an ISO/IEC 17025 accredited lab performs a non-accredited calibration. Some customers assume all certificates issued from an accredited lab are also accredited. This is simply not true. If the equipment or calibration specifications are outside the lab's accredited scope/ procedures, they can not issue an accredited certificate. As an accredited lab, it's not uncommon for us to issue non-accredited certificates to customers who request specific calibration specifications.
To ensure a past calibration was accredited, check for a statement of accreditation on the bottom of your certificates. Statements usually include the accrediting body's logo and the wording, "this calibration is accredited." If not logo or statement exists, chances are your calibration was not accredited. If you need an accredited calibration, confirm accreditation with your service provider, or ask to see their accredited scope to confirm your equipment and specifications are covered. 
View our Calibration Service Card
How we can help
If you are tired of juggling a different calibration company for each piece of equipment, we are here to simplify your experience. Our lab is home to one of the largest accredited calibration scopes in the area, including a diverse range of electrical, dimensional, mass, force, light, sound, and thermodynamic measuring equipment. Request a consultation to learn how our team can provide onsite calibration, certification, and repair for virtually any piece of measuring equipment.
Our Promise
---
It is our promise to treat each customer with integrity and respect. To this end, our goal is to design solutions with your company's best interest in mind, not our bottom line.
24/7 Service:
1 800 474-9838
24/7 Service:
1 800 474-9838