Relying on the Legal-for-Trade Tolerance is Not Enough
Many businesses believe that being legal-for-trade approved is enough to run an efficient business. The truth is, relying on the acceptable tolerance for regulators may be costing your business thousands. The chart below displays the acceptable tolerances for NIST Handbook 44 (HB44) and OIML.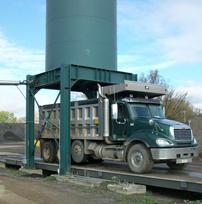 You may look at the chart above and think 40lbs is a relatively small number compared to a 20,000 lbs truck weight, but small numbers can add up. Let's take a look at a real-world scenario of a truck scale reporting only 20lbs off.
Average Trucks a Day: 25
Days in Operation per Week: 5
Weeks in Operation per Year: 52
Product Cost: $0.75/ lbs
Scale Weighing Error: -20 lbs
Cost of Error: $97,500 loss per year
Avoiding Truck Scale Weighing Errors
Since truck scales can last anywhere from 10 to 20 years, selecting the correct components and implementing a proper maintenance plan can lead to decades of benefits (or burdens) for an owner. Depending on your choices, a truck scale can quickly pay for itself, or the errors can stack up to a massive cost.
Maintenance Planning
Fortunately, making a few tweaks to your routine and keeping a regular maintenance schedule can reduce the risk of weighing errors. To learn the steps your facility can take, 
download
 our Routine Care Poster, or read the steps below.
Services the Operator can Perform:
Before the start of every workday, perform a visual inspection looking for obvious debris or damage.
Perform a monthly scale cleanout, including washing around and under the scale to remove debris. Clean outs are particularity important in the winter months when cold weather can freeze debris and damage your scale.
Perform a partial weight test every two months. If a discrepancy appears, order a full-services calibration.
If there is a sudden impact to your scale or a potential overload, immediately order a calibration.
Services your accredited scale company should perform:
Depending on the scales traffic, your scale provider should perform regular preventive maintenance between 1-4 times a year.
As part of the preventative maintenance, your scale company should also perform regular calibrations.
Refurbish or upgrade the load cell system as needed.
Selecting the Correct Equipment
Between module configurations, weighbridge types, and foundations there are hundreds of possible variations for a truck scales. Since each truck scale application is unique, it is impossible to make a blanket statement on which combination is the best for your operation. Each choice has its strengths and weaknesses that can vary depending on the application, location, and workload. To decide what combination is the best for your facility, we recommend downloading the 
truck scale buyers guide
 or 
requesting a consultation
with one of our vehicle weighing experts.
Despite the variety of choices surrounding most vehicle scale components, there is one piece of equipment we recommend for most applications, the
Mettler Toledo PowerCell PDX load cell
. This load cell delivers unmatched accuracy and reliability with a lower lifetime cost-of-ownership than most load cells on the market. This feat is mainly accomplished through Mettler Toledo's innovative cell to cell interface. The cell to cell interface eliminates the number one cause of truck scale failure, the junction box.
Other PDX Innovations:
Completely submersible IP68/IP69k hermetically sealed design
Independently verified lightning protection system
Predictive diagnostics and network health system
Advanced Shock absorption bumper
Analog Scale with Conventional Wiring
Digital Scale with Cell to Cell Interface
If your existing scale is plagued by one of these problems, learn how we can upgrade your scale to PDX technology.
Premier Scales & Systems is committed to helping our customers select the best weighing application for their facility!