Why Partner with Premier?
---
Being around for a half-century is no accident. Premier is built on the philosophy that our success comes through the success of our partners. This philosophy has led us to do things little different than other Metrology companies. Our solutions are designed with your company's best interest and goals in mind, not our bottom line. This mentality means we work more as an extension of your team rather than an outside contractor.
Why Partner with Premier?
---
Calibration Consultation & Interval Management
Whether preparing for the next audit or maintaining quality standards, we will design, manage, and implement a custom calibration plan for your facility. Our plans help partners identify which pieces of equipment need calibration, what is an acceptable tolerance for your process, and help you decide the best calibration intervals for your equipment. By partnering with Premier, you are ensuring the highest level of calibration management for all of your equipment under one plan.
---
Easy and Secure Online Certificate Access
You'll have quick access to all of your lab and scale calibration certificates in one secure online system. No more storing paper copies or keeping track of multiple accounts.
---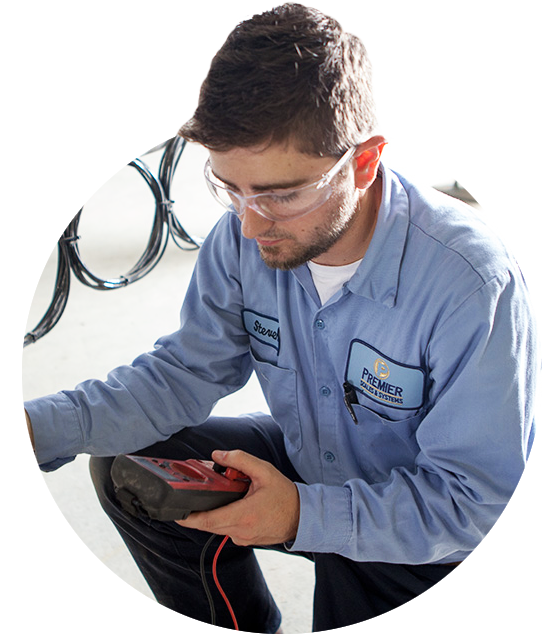 24/7 Onsite Scale and Instrumentation Calibration & Repair
We go through great lengths to help our customers avoid costly downtime. Our technicians are ready for dispatch to your location 24/7.
---
We keep your bottom line top of mind
Unlike many of our competitors, our sales and services are centered around the best ROI for your company. We promise to do what's right for customers regardless of our profit margins.
---
We are a Full-Service Metrology Company
Full-service means one company, one point of contact, one invoice for any metrology need. This streamlined experience reduces, time, paperwork, and ultimately cost for our partners. We are proud to offer one of the area's largest ISO/IEC 17025 accredited scopes. View our Calibration Card or select a category below for more details.
• Belt Scales
• Conveyor Scales
• Counting Scales
• Check Weighers
• Crane Scales
• Heavy Capacity Scales
• Vehicle Scales
• Industrial Scales & Balances
• Retail Scales
• Lab Balances
• PH Readers
• Conductivity Meters
Angles
Bore Gauges
Coating Thickness Gauges
Cylindrical Pins
Calipers
Comparators
Dial Indicators
Depth Gauge
Feeler Gauge
Gauge Balls
Gauge Blocks
Height Gauges
Indicators
Length Rods
Levels
Micrometers
Muller Gauges
Notch depth
Pin Gauges
Plug Gauges
Ring Gauges
Snap Gauges
Squares
Surface Plates
Tape Measures
Thickness Gauges
Thread Gauges
Ammeters
Clamp-on meters
Multimeter Calibration
Meggers
Megohmmeters
Insulation testers
Voltmeters
Wattmeters
Power supplies
Voltage supplies
Current supplies
Resistors
Decade resistors
Capacitors
Thermocouple displays
Thermocouple calibrators
Universal calibrators
RTD displays
• Volumetric Dispensers
• Viscosity Meters
Force gauges
Pressure Gauges
Tensile machines
Tension testers
Compression testers
Tensile testers
ASTM E4 calibration method
Crane scales
Dynamometers
Weights
Proving rings
Load cells / Scales
Torque
• Avoirdupois lb.
• Metric
• Class I through Class F weights
• Optic / non-contact
• RPM Totalizers
Chambers/ovens
Dry wells/baths
Infrared
Relative humidity sensors
Temperature sensors
24/7 Service:
1 800 474-9838
24/7 Service:
1 800 474-9838